Meet the staff at Walnut Creek Pediatric Dentistry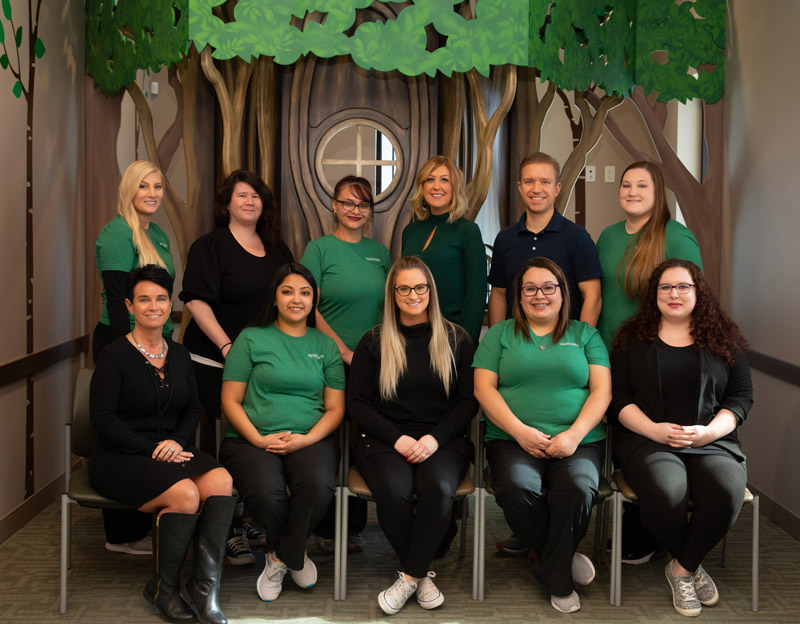 Dr. Barry Webber, DDS
Pediatric Dentist
Dr. Barry grew up in La Vista and is a graduate of Brigham Young University. He attended dental school at the State University of New York at Buffalo, where he graduated with honors. Following graduation from dental school, he went on to specialize at one of the nation's top 10 pediatric hospitals: Children's Hospital of Pittsburgh. In 2009, he became board-certified and was recognized as a Diplomate of the American Board of Pediatric Dentistry.
Dr. Barry is fun-loving and active. He enjoys riding his bike and flying airplanes. He also enjoys vocal performance. Beginning with his days at Papillion-La Vista High School, Dr. Barry has performed and starred in musical productions such as South Pacific, The Music Man, and My Fair Lady.
He can often be found enjoying a family adventure with his wife, Cara, and their five wonderful children.
Kelly
Dental Hygienist
Kelly was born and raised in Omaha, NE. She left the city to attend college at the University of South Dakota where she pursued a degree in dental hygiene. She moved back to Omaha in 2017 and lives with three dogs, a cat named Kat, and a parrot. In her free time she enjoys drawing and painting. She also loves to play piano.
Stacy
Office Manager
Stacy was born and raised in Sioux City, IA. She met her husband Nick in 2016 and moved to La Vista in 2017. Stacy has two children, Ethan and Francesca (Frankie). She loves summer weather and must go to Lake Okoboji with family and friends throughout the season. She wishes summer was 12 months out of the year! When the summer months are gone, Stacy likes to watch college football, mainly Notre Dame and, of course, the Huskers. She takes a family trip to Notre Dame every year and has never witnessed them lose in person. Stacy never passes up the chance to grill and enjoy a summer day on the patio.
Krystal
Treatment Coordinator
Krystal was born and raised in North Platte, NE. She moved to Papillion after marrying her husband Justin in the summer of 2019. She loves Disney and has been to Disney World more than 30 times. She also loves the Huskers and the Cowboys! In her free time, she loves watching old movies — her favorite being Casablanca. She likes to spend time with her family and loves guacamole. She loves to travel and her ultimate dream vacation is Greece!
Kelsey
Insurance Coordinator
Kelsey was born and raised in Tell City, IN, though her husband's job has taken them all over the country. Kelsey has spent time in Kentucky, Texas, and most recently, Mount Pleasant, SC. The beach life wasn't for her though, and she has now moved back home to the Midwest. Kelsey and her husband have one cat, a Devon Rex named Drexler, who goes everywhere with them. They enjoy taking him on long walks through their new hometown here in Omaha.
Melodie
Receptionist
Melodie was born in Council Bluffs, IA and graduated from St. Albert's High School in 1988. She moved to Connecticut a year later as a live-in nanny. While there, she met and married her husband Joseph in 1995. They lived in Connecticut for 19 years before moving to Papillion in 2008. Melodie and Joseph have a daughter who lives in the area, as well as two dogs named Riley and Milo. In her free time, Melodie likes to do yard work and exercise.
Michela
Receptionist
Michela is originally from Huntingburg, IN and moved to Omaha when she was 6 years old. She graduated from Millard South High School. Michela has an older brother and a younger brother. She has worked with children for the last 14 years and loves every second of it. She is also very fascinated with the dental world, so it only makes sense for her to be in a pediatric dental office! Michela is a huge football fan — she loves to watch the Saints dominate! In her free time, she enjoys spending time with her family and is always up for any outdoor activity.
Milenka
Delivery Director
Milenka was born and raised in Bolivia. She moved to Nebraska in 2013, and married her husband, Brian, that same year. They have one daughter. Before she moved to Nebraska, Milenka worked in a dental office and a family practice. Milenka enjoys sky diving, playing volleyball and swimming. She also loves music and spending time with her family.
Jackie
Dental Assistant
Jackie was born in Mexico and raised in Omaha. She attended Midwest Dental Assisting School and graduated in 2018. She has two beautiful daughters—Jazmin and Jozlyn. In her free time, Jackie enjoys spending time with family. Her favorite food is pizza. Yum! Jackie has two dogs — Louie and Stitch, and two guinea pigs — Brownie and Marshmallow. Jackie would like to further her education and one day become a dental hygienist.
Brynn
Dental Assistant
Brynn graduated from Southeast Community College in March 2017, and shortly thereafter earned her Dental Assisting National Board certification. She currently lives in Lincoln, NE, and has a dog named Tank. She enjoys reading, walking and watching movies in her free time. Her favorite thing to do, though, is spend time with her friends and family.
Maddie
Dental Assistant
Madison lives in Avoca, NE. She graduated from the dental assisting program at Southeast Community College in Lincoln in December 2020. Madison has two dogs — Hazel and Ruger — and likes to take them to the lake to swim. In her free time, she loves to go fishing and spend time with her friends and family. Maddie also enjoys Scooters coffee. You will find one in her hand each morning!
Daniela
Dental Assistant
Daniela was born in Eagle Lake, Texas and moved to Council Bluffs, IA in 2004. She went to Dental Assisting School at Vatterott College and graduated in 2014. Daniela loves to travel to Mexico to see family. She also loves to be on the beach whenever she can. In Daniela's spare time she loves to play soccer on a women's league, and hangout with her nieces and nephews. They are her world! She also loves spending time with her parents and siblings.