Meet the staff at Walnut Creek Pediatric Dentistry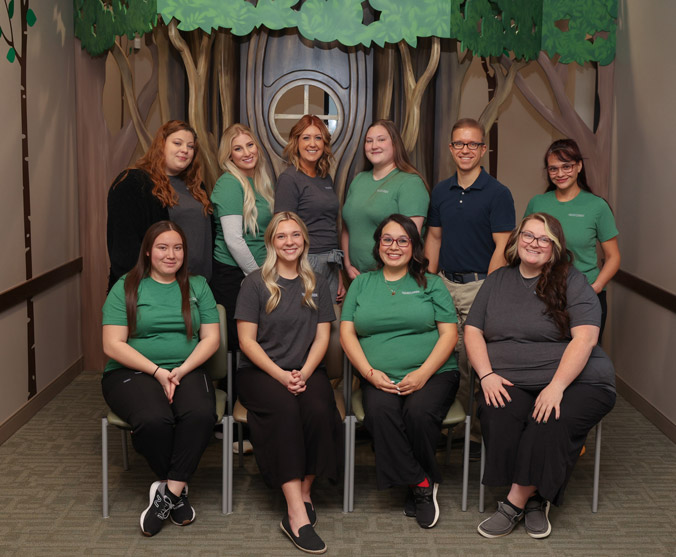 Dr. Barry Webber, DDS
Pediatric Dentist
Dr. Barry grew up in La Vista and is a graduate of Brigham Young University. He attended dental school at the State University of New York at Buffalo, where he graduated with honors. Following graduation from dental school, he went on to specialize at one of the nation's top 10 pediatric hospitals: Children's Hospital of Pittsburgh. In 2009, he became board-certified and was recognized as a Diplomate of the American Board of Pediatric Dentistry.
Dr. Barry is fun-loving and active. He enjoys riding his bike and flying airplanes. He also enjoys vocal performance. Beginning with his days at Papillion-La Vista High School, Dr. Barry has performed and starred in musical productions such as South Pacific, The Music Man, and My Fair Lady.
He can often be found enjoying a family adventure with his wife, Cara, and their five wonderful children.
Kelly
Dental Hygienist
Kelly was born and raised in Omaha, NE. She attended college at the University of South Dakota where she earned a bachelor's degree in dental hygiene. She moved back to Omaha in 2017 and further pursued her education in the field, completing her expanded scope of functions. In 2021 she married her husband Clay. Both animal lovers, they have a large "family" of pets, including a hairless cat named Shooby (who loves to wear sweaters in the winter), a rescue cat named Azzy, a parrot named Arthur, a Shi Tzu, Chihuahua, and black Labrador. She enjoys art, music, hanging out with friends and family, but her favorite hobby is decorating for Halloween.
Stacy
Office Manager
Stacy was born and raised in Sioux City, IA. She met her husband Nick in 2016 and moved to La Vista in 2017. Stacy has two children, Ethan and Francesca (Frankie). She loves summer weather and must go to Lake Okoboji with family and friends throughout the season. She wishes summer was 12 months out of the year! When the summer months are gone, Stacy likes to watch college football, mainly Notre Dame and, of course, the Huskers. She takes a family trip to Notre Dame every year and has never witnessed them lose in person. Stacy never passes up the chance to grill and enjoy a summer day on the patio.
Marissa
Insurance Coordinator
Marissa was born in Omaha, NE. She has been working in the dental field for 5 years going on 6. She is part of a huge Italian family. She grew up with three sisters. She loves spending time with her three nephews Karter, Gionni (her godson), Jakobe and her niece Trinity. Marissa's all-time favorite thing to do is spend her summers at the lake with her friends and family grilling and enjoying each other's time together.
Lauren
Treatment Coordinator
Lauren was born in Dayton, Ohio and moved to Nebraska when she was 2 years old. She is currently attending the University of Nebraska at Omaha to earn her bachelor's degree in Medical Humanities. She will continue her education to become a Dental Hygienist in the future. Lauren's favorite hobbies include reading, shopping and working out. Outside of work, she loves to spend time with her family, friends and her dog, Scout.
Haley V.
Treatment Coordinator
Haley was born in Lewiston, ID. She Moved to Elgin, OR in 2013. Haley played college volleyball, which led her to move to Bellevue, NE. She finished her last two years of volleyball at Peru State where she continued her studies in pre-requirements for dental hygiene.
Haley is currently applying to hygiene school in hopes to start her career as a hygienist.
Her hobbies include spending time with family, friends, and playing with her dog Luna.
Haley
Receptionist
Haley was born and raised in Alliance, Neb. She moved to Omaha in 2016 to attend Culinary School at Metropolitan's School of Culinary Arts. She then graduated with her degree in Hospitality. Haley loves to spend her free time baking for her business, Someday's Treats. She enjoys trying new local restaurants and going line dancing on the weekends.
Milenka
Delivery Director
Milenka was born and raised in Bolivia. She moved to Nebraska in 2013, and married her husband, Brian, that same year. They have one daughter. Before she moved to Nebraska, Milenka worked in a dental office and a family practice. Milenka enjoys sky diving, playing volleyball and swimming. She also loves music and spending time with her family.
Brynn
Dental Assistant
Brynn graduated from Southeast Community College in March 2017, and shortly thereafter earned her Dental Assisting National Board certification. She currently lives in Lincoln, NE, and has a dog named Tank. She enjoys reading, walking and watching movies in her free time. Her favorite thing to do, though, is spend time with her friends and family.
Jacklyn
Dental Assistant
Jackie was raised in South Omaha and Council Bluffs area. She graduated from Dental Assisting school at Iowa Western Community College in 2022. Jackie loves to travel to Mexico to visit family. While in Mexico, Jackie spends a lot of time outdoors — especially on the farm, where she gets to be with her favorite animals, such as cows and horses. Jackie enjoys spending time with family in Nebraska at parties and family gatherings. One person whom Jackie is obsessed with is her only nephew, Milan. She makes sure to spoil and help watch over him. One passion that Jackie has had since middle school is soccer. She plays regularly on women's and coed soccer teams. Jackie enjoys working with kids and can't wait to see where her career takes her.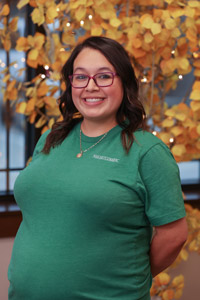 Daniela
Dental Assistant
Daniela was born in Eagle Lake, Texas and moved to Council Bluffs, IA in 2004. She went to Dental Assisting School at Vatterott College and graduated in 2014. Daniela loves to travel to Mexico to see family. She also loves to be on the beach whenever she can. In Daniela's spare time she loves to play soccer on a women's league, and hangout with her nieces and nephews. They are her world! She also loves spending time with her parents and siblings.
Jessica
Dental Assistant
Jessica was born and raised in Southern California. Jessica graduated from dental assistant school at Career Care Institute in Lancaster, CA. Jessica has three children. She also has two dogs and three cats. During her free time Jessica loves to go on adventures with her kids and dogs.  She enjoys playing volleyball with her boyfriend and his family and having picnics, which they like to call "Sunday funday."